Small Male

UPC: 854895004038

Price: $

49.95

Small Male

26

Average rating:

| Read all reviews
The Small Male GingerLead is designed for smaller dogs (male or female) typically under 45 lbs.

IMPORTANT: Size is determined by Pad Width and Adjusting Dimensions, not the weight of a dog (see sizing table below). It may be used for some larger breeds over 45 lbs. like Boxers, Pit Bulls, or other breeds with a deep chest and narrow waist.

The Pad Width is the primary difference between the Small, Medium and Large size. Each size can support dogs up to 200 lbs, and is adjustable for dogs low to the ground so the handler may remain upright. Key on the Pad Width measurement to ensure the proper fit and maximum comfort.

Visit our sizing page for measuring instructions.

INCLUDES:
• Adjustable, Padded Sling
• Velcro Handle
• Adjustable Leash (may be detached)
Size & Fit Guide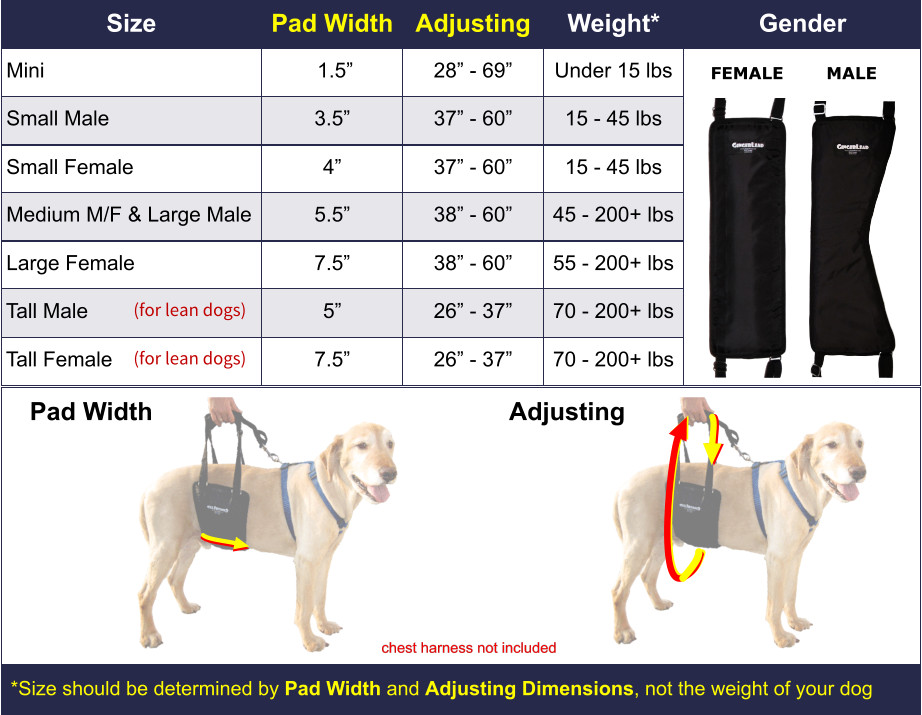 Small Male
26
Average rating:

Read all reviews
Featured positive reviews:
Small Male

Just what we needed
03/20/2016
Our French bulldog is 10 years old and is still mobile, but arthritis is making it difficult for him to go up and down stairs. The Gingerlead is just what we needed to give him the "rear end" support he needs to navigate them while still allowing him to be independent. Rather than using it as a "lead," we use it more as a support. It is very easy and quick to slide under his rib cage, clasp and assist him at the bottom of the stairs before he starts his journey up. We hang it on the bottom newel of the staircase-ready for the next trip up! Probably need to invest in another Gingerlead to keep at the top of the second staircase for the times he decides to use the back stairs rather than the front! Thank you Gingerlead for keeping Max moving up and down the stairs!
Small Male

Ginger lead order
07/16/2015
I was totally impressed with the level of service I received on my phone call yo your company. All questions were answered and delivery was swift. The product is very well made and easy to use. My dog is still adjusting to it as he developed a bad habit of hopping to compensate for the loss of mobility in his back legs. I am sure it will be a short adjustment period. And the lead will make movement much easier on him and me! Often I carried him down steps to the outdoors. Also I love the washable feature of the Ginger Lead.
Small Male

gingerlead
08/23/2015
I was amazed to get my package the day after I ordered it! How did you DO that? I ordered the small male Gingerlead for my 16 1/2 year old Westie. His back legs give him difficulty and he sometimes decides half of our walk is far enough and refuses to walk further. The Gingerlead was easy to figure out for both of us, and helps him, especially going downhill and for doing his business. Thanks for helping me help him continue his active senior lifestyle!
Small Male

gingerlead for bichon frise
01/21/2016
Our 20lb bichon ruptured left acl and tore right acl. The gingerlead has been a life saver for us before his surgery.
He is able to go outside and potty with the assistance of lead and was unable to go at all before we got the lead. once he has
surgery on left, the lead will help us with his care. He is scheduled for Feb. 2nd. Very easy to use and comfortable for the dog. So glad I found this online.
Small Male

Ginger lead for Skipper
02/08/2016
Skipper (15) had a severe reaction to a vaccination and had severe joint pain among other flu-like symptoms. He already had Vestibular disease and the pain meds seemed to make his balance even more unstable. Even though the Gingerlead was for short term use, I recommend it for any dog with stability issues. I'll be keeping it around for future use.
Small Male

Well made!
10/17/2016
It turned out that we are no longer in need of the lead as our new adopted special needs boy is walking in his own, albeit a bit wobbly! Regardless he is a senior baby and we are keeping the lead just in case! I was very pleased with how well this item is made! Great quality and I'd definitely recommend this to others!
Small Male

Small Male fits Wheaten Terrier
07/09/2015
The GingerLead is a back saver as we nurse our almost 9 year old Wheaten Terrier through TTL surgery.

It is saving our backs and easy to use. The dog sits as I put it on him.

Thanks you!

Small Male

Thank you Gingerlead
08/19/2015
This support lead is well-designed and well-constructed. Our dog, a 12-year old male Lhasa Apso, who is quite fussy and independent, is willing to let us us use it to assist him on longer walks when needed.
Small Male

Male Gingerlead
05/18/2016
Gingerlead has been a great help for my 13+ male cocker spaniel who has a partially torn cruciate ligament. He sure can motor with that thing, and it stays nice & dry. Highly recommend.
Small Male

GingerLead
11/24/2016
Excellent product, easy to put on and take off and also very comfortable for the dogs. We deal with special needs dogs and this harness is one of the best products on the market.
Small Male

walking sling
06/01/2015
This item was very helpful with my little dog who just had back surgery, thanks. Product is very well made and I would certainly recommend it to others.
Small Male

Small Ginger Lead
06/08/2016
I find this product easy to use and very helpful. As a matter of fact I have owned another one for many years! Best regards!
Small Male

Very Useful!!!
10/23/2016
Great product and Great service!!!

I will highly recommend this product to anybody.

Thank you very much!
Small Male

Thank you!
11/19/2015
My dog is losing the use of his legs and needed a new sling to help him walk. Although your product didn't work for Jake because of his adorable, quirky Corgi body, I would like to recommend a Gingerlead to anyone whose dog needs back leg support. This product is sturdy and very well made. The design is well thought out and I believe will fit most dogs. In addition, the customer service is outstanding. The people I spoke with were helpful and compassionate. I couldn't have asked for more. Thank you!
Small Male

For a friend
11/08/2015
My friend is very pleased with your product. I bought it as a gift for her dog who has walking issues (arthritis) and it has worked out really well for not only her dog, but for her too. Linda is older and has an arm that has been problem-some due to an accident. It looked great on the internet, and is just as sturdy and padded as it looked. Thank you from both Linda's and Lone Star.

Small Male

GingerLead
05/10/2015
The lead works well lifting and supporting my Border Collie up and down stairs but is awkward using it to lead him on a walk,I have to lean over and can't stand straight up in order to give him some balance.
Small Male

Ginger Lead
04/09/2015
My dog passed away the day the Gingerlead arrived. They were nice enough to take it back and refund my money. Very nice company to deal with and they were highly recommended by my Vet. Thank You!
Small Male

MAX
08/22/2015
I used it for my male pug because he had disc disease and i really liked it. But unfortunately max passed on several days after having it. The quality is great and i received it quickly.
Small Male

gingerleash
05/13/2016
Great service on getting the item shipped. Was a little disappointed that it didn't have a way to fasten around my dogs abdomin.
Small Male

Excellent seller
09/02/2015
Bought this device for my dog. Unfortunately it didn't work for him. Returned it without a problem.