Small Female

UPC: #854895004021

Price: $

49.95

Small Female

50

Average rating:

| Read all reviews
The Small Female GingerLead is designed for smaller, female dogs typically under 45 lbs.

IMPORTANT: Size is determined by Pad Width and Adjusting Dimensions, not the weight of a dog (see sizing table below). It may be used for some larger breeds over 45 lbs. like Boxers, Pit Bulls, or other breeds with a deep chest and narrow waist.

The Pad Width is the primary difference between the Small, Medium and Large size. Each size can support dogs up to 200 lbs, and is adjustable for dogs low to the ground so the handler may remain upright. Key on the Pad Width measurement to ensure the proper fit and maximum comfort.

Visit our sizing page for measuring instructions.

INCLUDES:
• Adjustable, Padded Sling
• Velcro Handle
• Adjustable Leash (may be detached)
Size & Fit Guide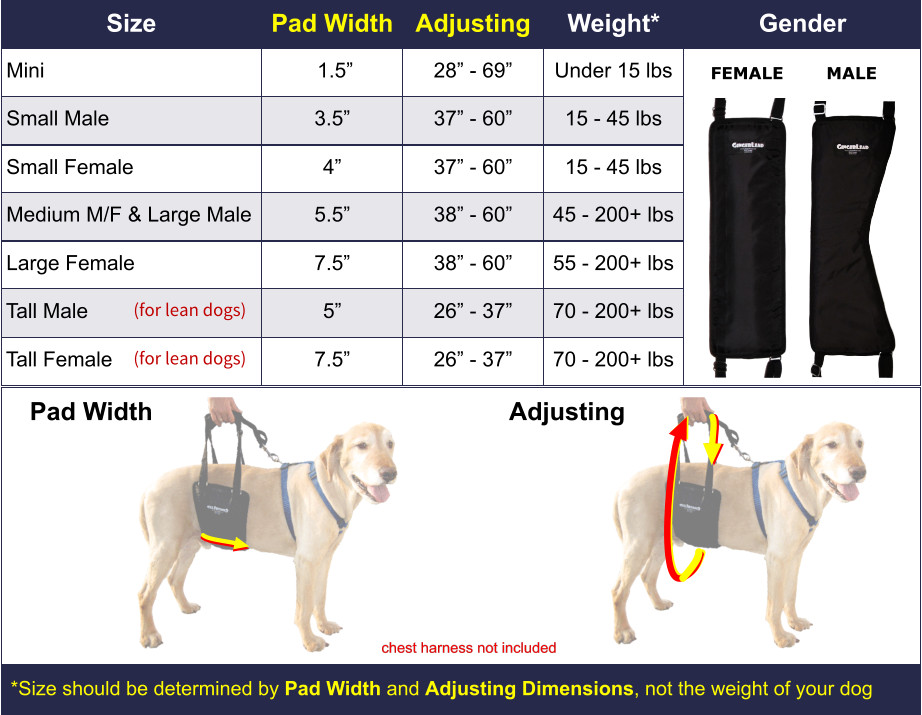 Small Female
50
Average rating:

Read all reviews
Featured positive reviews:
Small Female

Mrs.
08/16/2016
Our dog is 13 years old and has arthritis in her hips. She can not walk or stand for long and it is painful for her. She is on medication, but her arthritis is so advanced at this time. She still has her good deposition. I tried the wheelchair with her and that upset her,it also seemed to make her worse. I found the Gingerlead on line and ordered it. My husband got the hang of it right off, took me two weeks to really get it right. It has made a huge difference. She takes two good walks daily around the yard and shorter ones during the day. She will boost her front end up so the harness is easier to put on. If it wasn't for this harness she would not be with us today. Thank you, thank you, thank you.
Small Female

Great Product
11/24/2016
This product turned out to be perfect. The padded cradle was a great fit for our 14 year old Cavalier King Charles Spaniel. She has difficulty with her back legs and this product is significantly better than the folded towel we were using. The adjustable straps at the long length are just right for my height. Our girl appears to be very comfortable with the well padded cradle. It is soft and flexible enough to contour her body. Both our dog and us can strongly recommend this product. She can easily do all her potties with no problems. Ease of use is excellent. It has enabled us to extend our valued dogs life.
Small Female

Perfect choice
03/12/2017
It sure made it easy to walk her outside. It is comfortable for her and fits her perfectly. I am glad I measured her first. That is very important. We made our own with a sleeveless t-shirt and a leash before we found your leash/harness. Yours works wonderfully. It was well worth the cost, even though I was reluctant to initially buy one. I am so pleased with it. I have passed this idea along to friends. So glad to still have her with us and she is improving. She is 14 years old, and we thought she would have to be put to sleep, but this harness has added some more time to her life and ours! Thank you.
Small Female

Thank You from me and my little dog
07/27/2015
The gingerlead works great with my dauschund who is recovering from back trouble. It is also saving my back because I can adjust it so I can walk naturally. I had been using a sling that my Veterinarian office loaned me and the gingerlead is 100% better as it supports her back end and leg placement properly rather than just keeping her back legs from dragging. She started using her hips and legs right away and had noticeable improvement. Thank you for this product and your outstanding customer support. I am going to tell our vets office that they should recommend gingerlead to their patients.
Small Female

So happy we found this product
10/02/2016
When our 11 year old 45 pound mixed bread tore tendons in both her hind legs we were devastated. She couldn't walk without help. We were assisting her by folding a beach towel and using it as a sling under her stomach. The next day we found Gingerlead, measured our dogs needs and ordered it right away. This product is very well made, easy to use and has been a blessing. Thank you for inventing Gingerlead, it is helping us thru a difficult time. Glad to report our dog is on the mend and doing very well. Have to believe your sling has helped immensely in her recovery.
Small Female

Dog owner
04/22/2016
God sent when my dog became paralyzed . Your immediate contact and fast service made life so much easier for dog and myself. Our Doxie Sadie prefers the harness to the cart. I appreciate using it at night when I want to take her outside in s hurry . It's easy and comfortable for both of us! I suggested our rescue post its availability on their website . Brochures should be in every vets office, Readpnable price and nice people to work with!
Small Female

Awesome!
06/28/2016
I purchased a GingerLead for my dog prior to her TPLO surgery. It is very sturdy and nicely made. I chose this product over others because of the built-in leash (and in part because of the story behind it). If my dog sees a squirrel when on a walk, she will pull your arm out of socket to get to it! The GingerLead prevents her from doing it. I have a lot more control over her movements. I am very pleased with my purchase.
Small Female

Exactly what we needed
11/01/2016
My 15yo pitbull, Maxine, has neuropathy in her hind legs. After trying other rear-end harnesses which began to slip off as her muscles have degenerated, a friend pointed me to the GingerLead. Size small fits her narrow waist perfectly. She can now stand and eat her food without the interruption of falling over and we can go for walks without losing our harnesses. Whole-hearted recommendation.

Small Female

Great Product!
05/26/2016
I purchased this to aid my older beagle who's back legs are almost totally non functioning. It helps to keep her upright when taking her out to go potty. It took a little a little while to get it fully adjusted for both of us, but she took to it rather quickly. Unfortunately, there's nothing that will cure my doggies legs but this certainly makes life a little more comfortable for both of us.
Small Female

Pekingese Chloe
09/17/2016
I wish I got this Gingerlead last year had I known how well my dog is doing with it. With a brief adjustment my 7 year old Pekingese with bulging disc can take walks. She is even starting to go faster. I can really tell her spirit has improved. It's easy and quick to put on and I am very happy with it! It seems like she continues to improve.
Small Female

Our Gingerlead
07/27/2016
I have to say that Gingerlead was a very wise investment, our Beagle has gotten better every day and is using her back legs more and more with this on her. She still has a ways to go but we certainly see an improvement with Gingerlead. Thank you for the fast shipping also. We recieved it within a day and a half!!!
Small Female

Love it!
05/31/2017
You have helped us immensely with our dog's hip issues. I want to thank you again for making such a great product It is truly a lifesaving device for our family dog with hip displacement. We are truly grateful! God bless you all and we will spread the word of your wonderful work!
CJ Davidson,
Los Angeles
Small Female

Small dog sling
04/04/2016
I purchased the small dog sling as my dachshund just had back surgery and needed a sling for strengthening her legs. I had been using a towel but found it very hard on me and hard to really help my dog. The sling I received has proven to be the exact thing for both my dog and me. Thank you so much!
Small Female

Ginger Lead
06/27/2016
I love this sling, it was perfect for my dachshund who had lost the use of her back legs. Today she can walk on her own as this product help get her strength in her back legs get stronger everyday along with the water therapy that was also performed. I highly recommend this product.
Small Female

Awesome invention
01/12/2017
My Maltese hurt her hip somehow. Outside playing. She eventually had hip surgery. After her rest period was over I started working with her to use her leg. Not a lot of success. One day after using the sling she has started to use her leg more without the sling. Love this item!
Small Female

Fantastic Gingerlead Harness
09/27/2016
The Gingerlead harness has been a fantastic tool in helping our aging bison get around the back yard. Very easy to adjust, so that you are supporting your pooch, without stressing your back! Would highly recommend it for all those needing back end help for their pets.
Small Female

maggie
03/20/2017
wonderful item and shipment was so quick. It's working great on a dog who has had surgery on one knee and looking to have the other knee operated on later. This is a Borgy female (border collie/corgi mix) and the small female is perfect. She weighs 35lbs. Thanks
Small Female

Small Female GingerLead
10/08/2016
My dog and I love this product. It is easy to put on and adjust for you and your dog's height. My injured (hit by a car) dog is enjoying her limited times of mobility thanks to her GingerLead. Product arrived timely so we could get it in use right away.
Small Female

Gingerlead
04/09/2015
So far so good, sad that it has come to this for my beautiful girl but its exactly what I needed. Customer service was so helpful when ordering. I am happy I ordered a soft breathable harness for it for the extra comfort and support..
Thank you
Small Female

Great Product
04/25/2016
Most of the time, due to medication for seizures, our Schnauzer has little control over her back legs, dragging along when she tries to walk. The harness is fantastic, allowing her better mobility in both the house & outside. Money well spent!